Rowe's Leather & Goods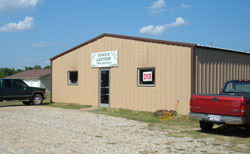 Rowe's Leather ShopRowe's Leather was started in 1955 by James "Doc" Rowe, a Hope, Arkansas police officer, in a small storage shop behind his house with the original intention of building saddles as a hobby, but he quickly saw the benefit of his ability to also build his own police gear and it didn't take long for the area folks to notice the quality leather goods he was putting out. The business took off and the demand for Doc's leather goods grew. Before long, he was building saddles and saddle tack, belts, police gear, billfolds, and other odds and ends. After suffering a heart attack and enduring bypass surgery in 1974, Doc's doctors medically retired him from the police force and also from the leather business. In accordance to doctor's orders, he sold his sewing machine and burned all of his patterns, rendering it next to impossible to do leather work and lessening the temptation to jeopardize his health by doing so.
In 1977, Doc's son Kenny Rowe concocted a brilliant plan to get Doc out of the four walls of his house and back to enjoying the hobby he'd had in the early days. Since Doc's health was good and his passion for leather work was still there, Kenny decided he would re-open the leather shop and have his dad teach him everything he had taught himself about the leather business. They worked side-by-side for almost 6 years, and then one day Doc came in one and told Kenny he wasn't working anymore. He felt Kenny knew enough about the leather business without him being there. Kenny continued to work alone at the leather shop part-time for the next 11 years. During this time, he established a name for himself as one of the top-notch makers of leather goods in the area and began reaching a group of clientele beyond the borders of Hempstead County, or Arkansas, and even the United States.
When Kenny decided in 1994 to quit his full-time job and make Rowe's Leather into his sole livelihood, it was a gamble and a heavy consideration, but he had faith that his skills and abilities would carry him through. Shortly after Rowe's Leather became a full-time operation, Kenny recruited the help of his young son Cody, who began helping in the shop and learning the art of making leather goods. Cody enjoyed working in the shop when he could and worked weekends and after school to help out. Cody worked with Kenny part-time and all through high school and college, and upon graduating from Henderson State University in Arkadelphia, Cody made the decision to follow his dad's career path and become a full-time leather craftsman.
In 2003 Rowe's Leather was relocated to newly-built shop which is much larger and in a more prominent location, right on Highway 29, just south of Hope. Today, you can find Kenny and Cody working side-by-side to produce not only leather goods of the best quality, but of superior artistry, you can buy nearly anywhere. You can attribute this to several factors, only using the best leathers and hides tanned in the U.S., the care and consideration that are put into your wants and needs when you place your order, and the fact that only one pair of hands construct your product from start to finish. And it doesn't hurt that these hands are some of the finest in the business.
Navigation